Kabelkonfektionen mit unterschiedlichen Anschlussmöglichkeiten
Wir entwickeln und produzieren kundenspezifische Kabelkonfektionen mit den unter-schiedlichsten Anschlusstechniken. Verwendet werden können u.a. IDC- sowie Crimp Verbindungen.
Neben den standardisierten Kabelkonfektionen, die Sie in diesem Katalog finden (USB, RJ45, D-Sub ...), liegt unser Fokus auf individuellen Lösungen.
Zum Einsatz kommen UL-zertifizierte Kabel und Litzen, Flachbandkabel, Flexkabel und Kabelbäume. Dabei ist auch die Kombination unterschiedlicher Steckverbinderfamilien an einem Kabel möglich.
Cable Assemblies with a Variety of Connections
In addition to standardised cable assemblies in our catalogue (USB, RJ45, D-Sub, ...), we develop and produce customized cable assemblies with a broad range of connection possibilities. IDC and crimp connections are used frequently. We provide UL-certified cables, wires, flat cables, flex cables and wiring harnesses. It is also possible to combine different connector families within the same cable assembly.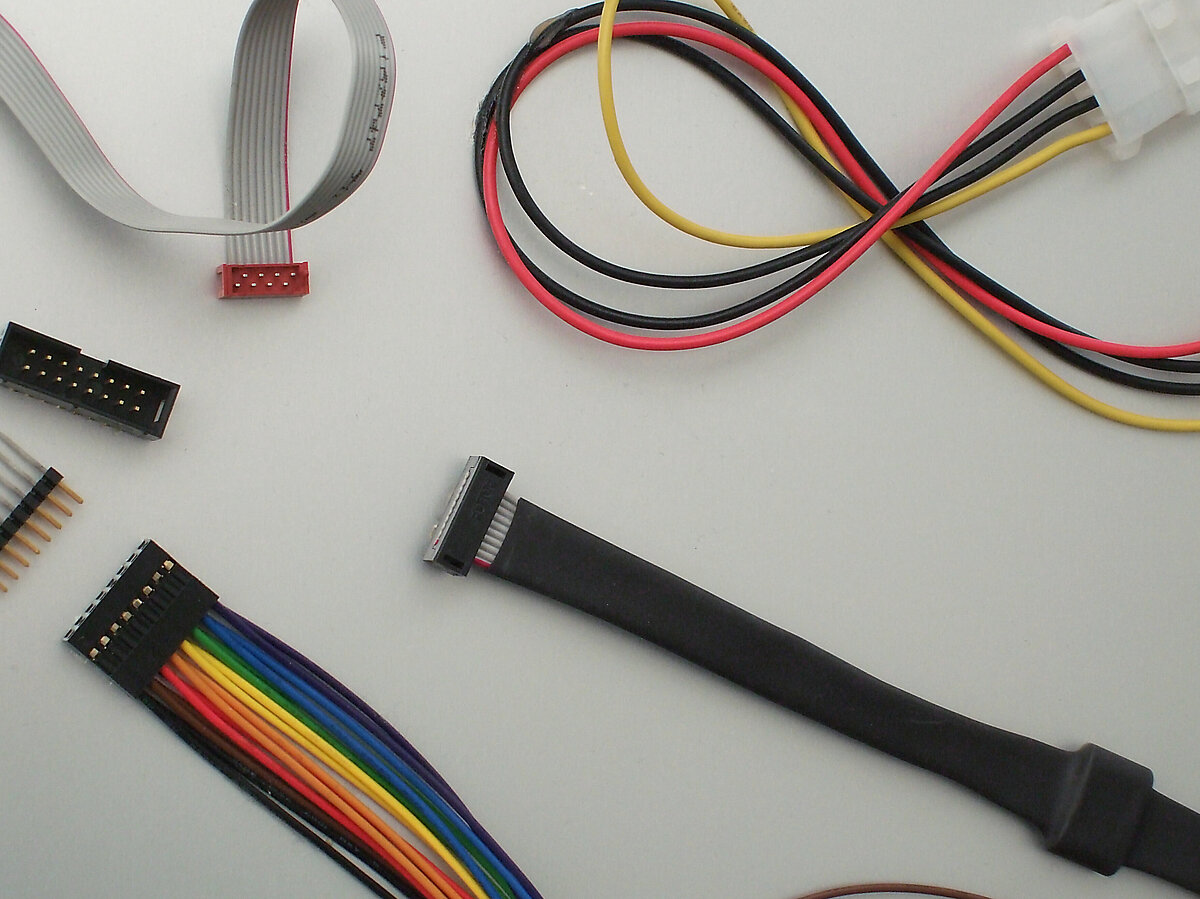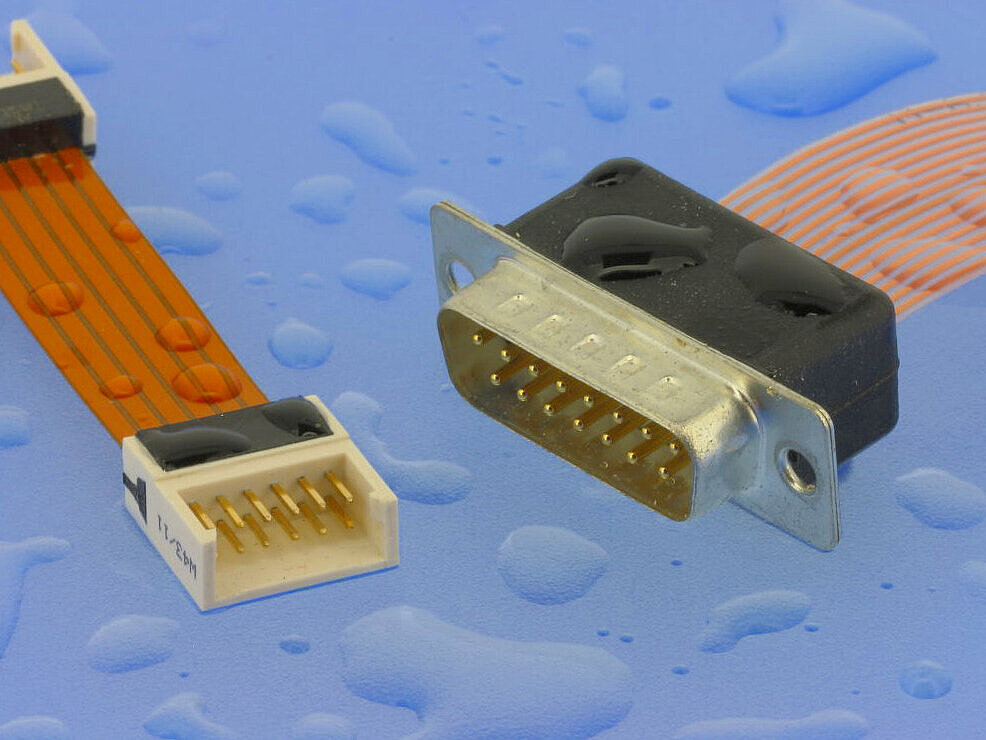 Individuelle Kunststoff-Umspritzungen zum Schutz vor Umwelteinflüssen
Kunststoff-Umspritzungen bieten Steckverbindern Sicherheit in rauen Umgebungen wie Feuchtigkeit, Schmutz und mechanischen Belastungen, sichere Schutzarten bis zu IP68. Maßgeschneiderte Gestaltung in allen erdenklichen Ausformungen, ein breites Produktspektrum ist realisierbar.
Kundenspezifische Sonderlösungen, beispielsweise als Gehäuseersatz, indem Baugruppen vollständig oder partiell eingegossen werden. Weitere mögliche Optionen: Anspritzen von Haltevorrichtungen, komplette Isolierungen, vergossene Elektronik.
Umfassendes Spektrum an THR-fähigen Steckverbindern spart Kosten und Zeit
Zeitgleiches Verlöten von THT- und SMT-Steckverbindern in einem einzigen Reflow-Lötgang spart Kosten und Zeit.
Die Bauteilgeometrie wird für den THR (Through Hole Reflow) Prozess ausgelegt. Die Kontaktlängen sind für sicher beurteilbare Lötstellen konstruiert und an unterschiedliche Leiterplattenstärken anpassbar.
Abstandshalter zur Leiterplatte sorgen für einen optimalen Wärmetransport zur Lötstelle. Eine Ausstattung mit Pick & Place-Pads und die Lieferung in Tape & Reel-Verpackungen oder in Tubes ist möglich.
Comprehensive Range of THR compatible Connectors Saves Cost and Time
Simultaneous soldering of THT and SMT connectors in a single reflow process will save cost and time. The component geometries are designed for THR (Through Hole Reflow) process; the dimensions of the contacts are designed for easy access to solder points and can be optimized for different PCB thicknesses. Spacers ensure excellent heat transport to the solder points. Pick & place pads can be fitted and delivery in tape & reel packaging or in tubes is possible.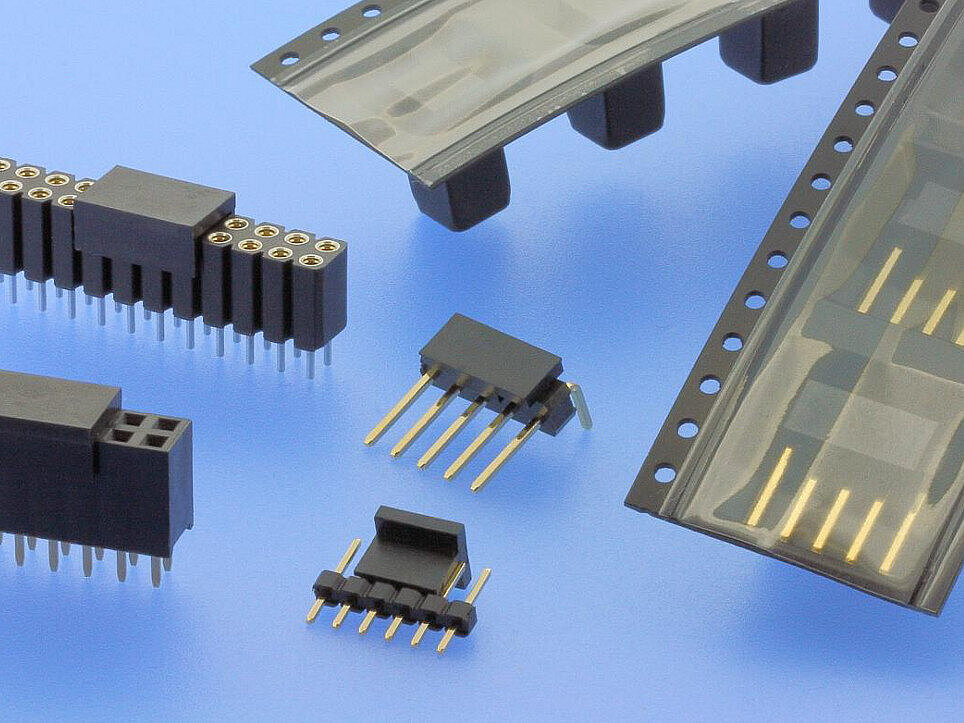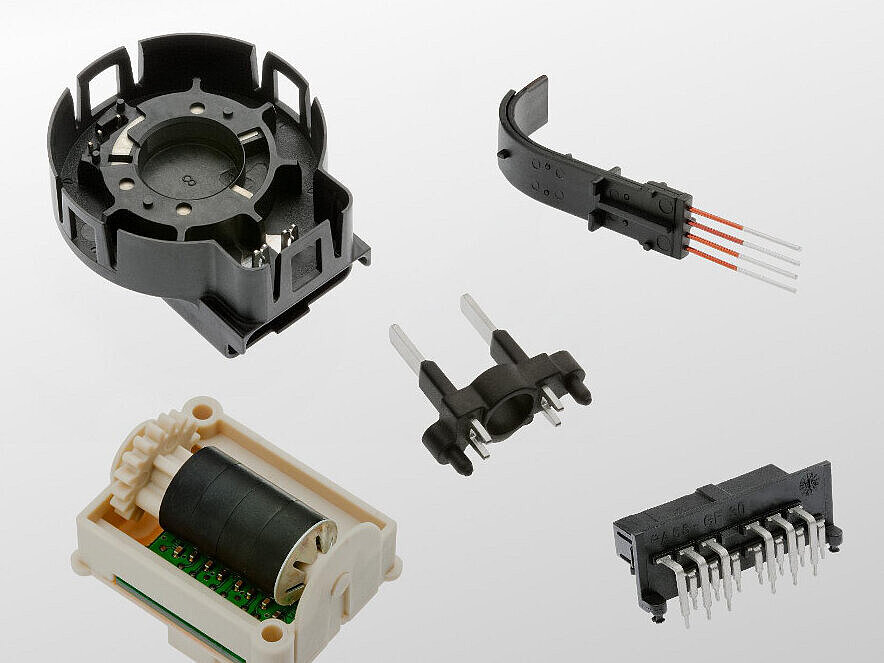 W+P als Projektpartner zur Entwicklung kundenspezifischer Steckverbinder
Nicht immer passt die Kataloglösung - wir entwickeln mit unseren Kunden gemeinsam technisch und wirtschaftlich optimale Steckverbinderkonzepte.
Auch in der laufenden Produktion sind wir in der Lage Änderungen kurzfristig umzusetzen oder zusätzliche Varianten zu schaffen. Denkbar ist auch die Entwicklung baugleicher, aber abgekündigter Steckverbinder.
Einfache Verarbeitbarkeit in der Elektronikproduktion, idealerweise in automatengerechter Ausführung, ist die Voraussetzung für Wirtschaftlichkeit.
W+P - Your Project Partner for Developing Customized Connectors
The catalogue solution is not always the best one - we develop technically and economically optimized connector concepts in collaboration with our customers. We are able to implement modifications and create additional versions quickly during production. We focus on easy implementation in electronic production, ideally in a design suitable for automatic assembly, as a way to economic advantages.